Aggiornato il giorno 11 Maggio 2020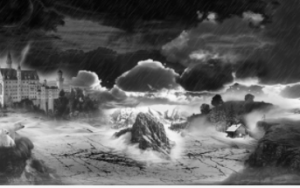 The Fifth Sunday, gioco scritto da un autore (asiatico?) che si firma Tom Broccoli,  è un mystery con tante potenzialità. Scrittura asciutta, essenziale, ma molto evocativa. Musica ed effetti sonori in linea con l'atmosfera cupa. Situazione alla Agatha Christie: sette persone che hanno risposto a un invito su un forum Internet si ritrovano bloccate in una villa. C'è un primo omicidio, poi un secondo e tutti i sopravvissuti sono sospettati. Con queste premesse, uno si aspetta un'avventura appassionante.
Invece, i problemi sono tanti. Interazione pari allo zero. Molti errori di grammatica e molta sciatteria lessicale. Il testo va letto a blocchi, in un quarto d'ora si arriva a un finale. Per arrivare a un altro finale, bisogna cominciare daccapo e rileggere quasi lo stesso testo, blocco dopo blocco. E' tutto molto macchinoso. Per risolvere il gioco, bisogna ripartire dall'inizio e, al primo bivio, scegliere l'opzione "So chi è l'assassino" e indicarlo. Insomma, è impossibile concludere il gioco al primo tentativo. E gli altri finali sono tutti tronchi, non spiegano quasi nulla. I personaggi paiono interessanti, ma sono appena tratteggiati non c'è l'approfondimento psicologico che un mystery richiederebbe. Il testo si legge a fatica a causa del contrasto con il colore dello sfondo.
E' tutto così bizzarro tanto che sono arrivato a pensare che fosse tutto sarcastico, come se l'autore volesse prendersi gioco del genere mystery e di noi giocatori.
Ma in tutto questo, che può sembrare un disastro, qualcosa brilla… ho una sensazione: l'autore ha grande talento. Chi si nasconde dietro il nome di Tom Broccoli?
No crime si perfect, but the best crime can be nearly perfect.
---
The Fifth Sunday, written by an (Asian?) author who calls himself Tom Broccoli, is a murder mystery with a lot of potentialities. The writing is concise and sober, but very evocative. The music and the sound effects are in line with the gloomy atmosphere. It offers an Agatha Christie Situation: Seven people who responded to an invitation on an Internet forum get stuck in a villa. There is a first murder, then a second and everyone is a suspect. With such a premise, we are ready for an exciting adventure.
But the game is flawed. There is no interaction and too many grammatical errors. The text needs to be read in blocks, in fifteen minutes you get to an ending, but to get to another one, you have to start over and read almost the same text, block after block. It's all very tricky. To solve the game, you have to start from the beginning, choose the option, "I know who the killer is" and shoot your name. In short, it is impossible to finish the game at the first attempt. And all the other endings are blunt, obscure, they do not explain anything. The characters seem interesting, but they're not fleshed out, there is no that psychological deepening that a mystery would require. The background color makes the text almost unreadable.
It is all so bizarre that I came to think that it was all sarcastic, as if the author wanted to joke around the mystery genre and fool the player.
But in all this, which may seem like a disaster, something shines … I have a feeling: the author has great talent. Who is hiding behind the name of Tom Broccoli?
No crime si perfect, but the best crime can be nearly perfect.